Swing Dance Party
ON SATURDAY NOV 10th with

Laney and the Snappy Rhythm Gang
Man nehme: Eine leidenschaftliche Swingtänzerin mit ausdrucksvoller Stimme, einen Jazz-Musiker, der mit Tenorsaxofon, Sopransaxofon und Clarinette vielfältige Klangwelten erschafft, sowie eine erlesene Auswahl an Jazz-Virtuosen an Piano, Kontrabass und Schlagzeug und eine Prise Vintage-Lifestyle – Das Ergebnis ist Laney mit Ihrer Snappy Rhythm Gang aus Stuttgart, eine authentische Swing-Band in ihrem Element. Die bezaubernde Sängerin Laney und ihre sympathische Gang aus meisterhaften Jazz-Musikern haben sich dem tanzbaren Swing verschrieben und nehmen dich mit auf eine Reise in die 30er und 40er Jahre der goldenen Swing-Ära. Der rhythmische Drive und die durch ihre variantenreiche Instrumentierung sprühenden Songs lassen das Tanzfieber um sich greifen und keine Füße stillstehen. Tänzer lieben sie, und sie lieben es für Tänzer zu spielen. Ein Wechselspiel an Inspiration, wie zur Blütezeit der Swingmusik. Nicht nur für Tänzer der legendären Swingtänze, wie Lindy Hop, Balboa, Shag und Blues ein wahres Vergnügen, sondern auch für lauschende Jazz-Fans ein ganz besonderer Genuss!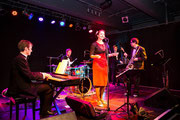 The lovely singer Laney and her cheery gang of magnificent jazz musicians journey through the golden swing era's 30s and 40s and impress with their variety of sound and inspiration in interpreting the classics. The band will keep your feet moving to the swinging beat when performing exquisite arrangements of jazz standards and the most popular songs among swing dancers!
Quelle: https://www.laneys-gang.de/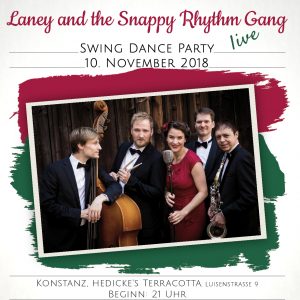 Start 21.00
Partypass: 25/18 €
alle Partys am Workshop-Wochenende inbegriffen

die Reservierung der Karten ist online möglich

Workshop-Teilnehmer zahlen keinen Eintritt
includes all parties on the workshop-weekend
you can book tickets online (registrations opens July 15th) or buy them at the door
free for workshop-participants!
Ort/Venue: hedicke´s · Terracotta