Swing Dance Party

ON SUNDAY SEPTEMBER 30th WITH
BENNY`S FROM HEAVEN
Der Name der neu gegründeten Band «Benny's from Heaven» ist zweideutig zu interpretieren, zum einen ist der Bandname eine Anspielung an den Jazzsong und den gleichnamigen Film «Pennies from Heaven» von und mit Bing Crosby. Zum anderen war Benny Goodman der King of Swing, und dem Repertoire, welches er zu spielen pflegte, hat sich diese Band mit grosser Leidenschaft verschrieben, um diese grossartige Musik wieder aufleben zu lassen. Unvergessliche Nummern wie «Stompin' at the Savoy», «Lady Be Good», «Memories of You» und viele mehr.
Ein Ohrenschmaus der Extraklasse, let's dance!*
On one hand, the band name is an allusion to the jazz song and same-named film "Pennies from Heaven" by and with Bing Crosby. On the other hand, Benny Goodman was the "King of Swing", and to the repertoire which he used to play, this band has devoted itself with much passion to revive this great music. Unforgettable melodies such as "Stompin 'at the Savoy", "Lady Be Good", "Memories of You" and many, many more.
Ear candy à la absolute superlative, let's dance!*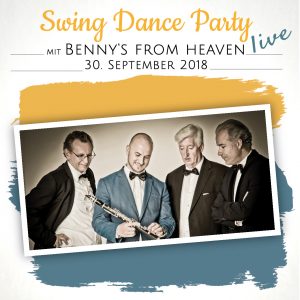 Kostprobe hier
Für Interessierte bieten wir einen Crashkurs für nur 5 € an – direkt vor der Party!
Crashkurs 18-18.45 Uhr
Party 19-23 Uhr
Eintritt: 20 € (Studenten und Geringverdiener 15 €)

Ort: Spiegelhalle am Hafen

Anfahrt:

*Quellen: http://simonwyrsch.ch/; http://www.radioswissjazz.ch/de/musikdatenbank/band/91230282ff52ce752fc5250e7810a57b6b9fc9/biography